Explore Our Communities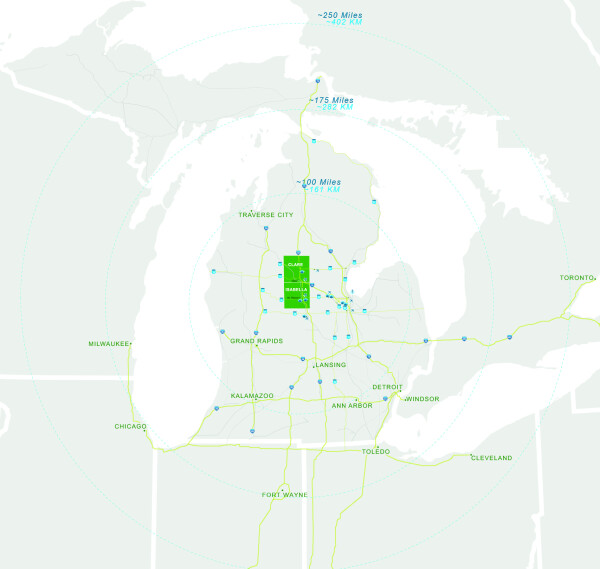 Isabella and Clare counties both feature robust and unique communities. Whether you are looking for the amenities of a larger City with small town appeal or are ready to embrace a quieter walk of life, our towns and villages have a lot to offer.
Top Employers
Middle Michigan is home to a wide variety of world-class employers.
Our top companies in Clare County include: Rogers Group, MidMichigan Health, Mid Michigan College, Lear Corporation, Northern Logistics, Rite Hide/JD Metalworks, Melling Products North, Federal Broach, Alro Steel, Jay's Sporting Goods, MediLodge of Clare and Clare-Gladwin RESD.
Our top companies in Isabella County include: Central Michigan University, the Saginaw Chippewa Indian Tribe, McLaren Central Michigan, Bandit Industries, Inc., Mt. Pleasant Public Schools, Morbark LLC., McBride Quality Care Services, Delfield/Welbilt, Isabella Bank, American Mitsuba Corporation, Walmart Supercenter, Meijer, Unified Brands and J. Ranck Electric.
A Competitive Tax Environment
Michigan ranks as one of the top 10 states for for new facilities and expansions as a result of its competitive tax environment.
Michigan Corporate Income Tax is 6% on federal taxable income apportioned to Michigan
No personal property tax
Personal income tax rate is at 4.25%, already one of the lowest rates in the nation and expected to decline over the next few years
Michigan Sales Tax is at 6%; however, sales tax is exempt on machinery and equipment purchases, electricity and natural gas used in production, and pollution control equipment
Inventory Sales Tax is at 0%
Additionally, property tax abatements are available to Michigan businesses, including 50% abatements for up to 12 years on new property for industrial processors and high-tech companies. A full list of our featured incentives and programs can be found on our website.
Utilities Available
Consumers Energy
Consumers Energy has been building towards the future since 1886 through a strong commitment of support towards the people and the companies that have chosen to locate here. Providing natural gas and electricity to over 60% of Michigan households and businesses, discover how Consumers Energy can partner with your business.
DTE Energy
DTE Energy's goal is to provide customers with the most reliable and affordable energy service possible. Headquartered in Detroit, this diversified energy company is ready to meet your businesses needs here in Middle Michigan; home to DTE's largest clean energy project to date. Learn more on how DTE Energy can support your business needs.
Our Communities
Mount Pleasant
Union Township
Shepherd
Clare
Harrison
Farwell