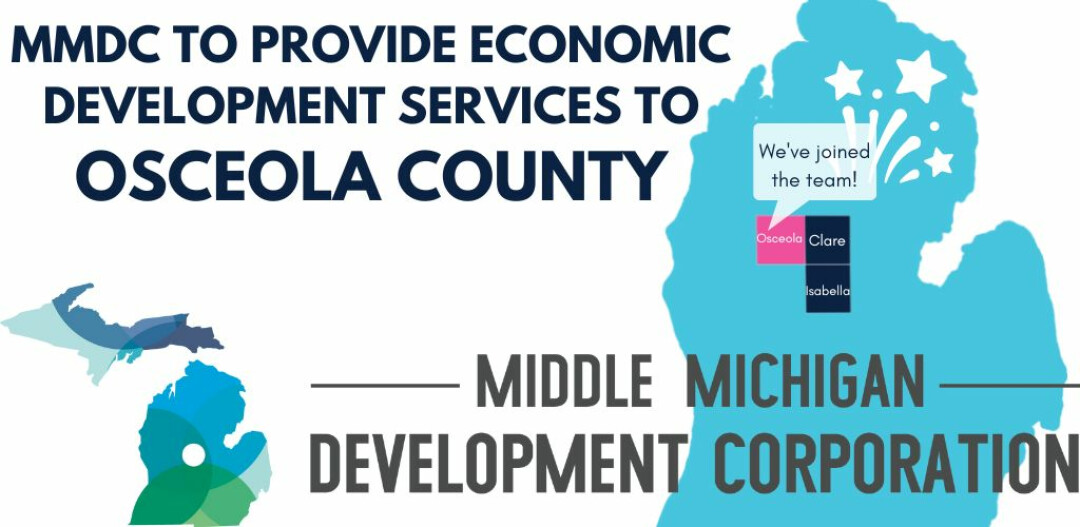 Middle Michigan Development Corporation (MMDC) has formally entered into a contractual agreement with Osceola County. This contract will allow MMDC to provide economic development services on behalf of the County and will expand its coverage area beyond its current Clare and Isabella County support.
"This is a great opportunity to provide economic development services to Osceola County in coordination with our other activities across Middle Michigan," stated Jim McBryde, President and CEO of Middle Michigan Development Corporation. "We look forward to serving another rural county and connecting with valuable resources to create a more resilient environment for the communities and the residents located across our growing service area."
MMDC's Vice President, Kati Mora, grew up in Osceola County, graduating from Reed City High School in 2002.
"I am overjoyed that I get to work closely with so many people I grew up with or knew throughout the years," Mora says. "Being able to provide economic support to the area I grew up in is incredibly special, and I hope to be able to enhance the economy's growth over the years through the services we provide."
Osceola County has a population of 22,891 and features over twenty major manufacturers, including Ventra Evart, LLC, General Mills and Cargill and the cities of Reed City and Evart, all of which will be important connection points for MMDC as it extends its services into the County.
"Economic Development isn't constrained by county lines," explains McBryde. "At Middle Michigan Development Corporation, we've invested in rural communities for years. For our communities, economic growth and success have more to do with synergies that emerge from collaborations and shared support than from isolation or exclusion. By expanding our reach into new rural areas, we will be better equipped to support every community within our Middle Michigan service area."