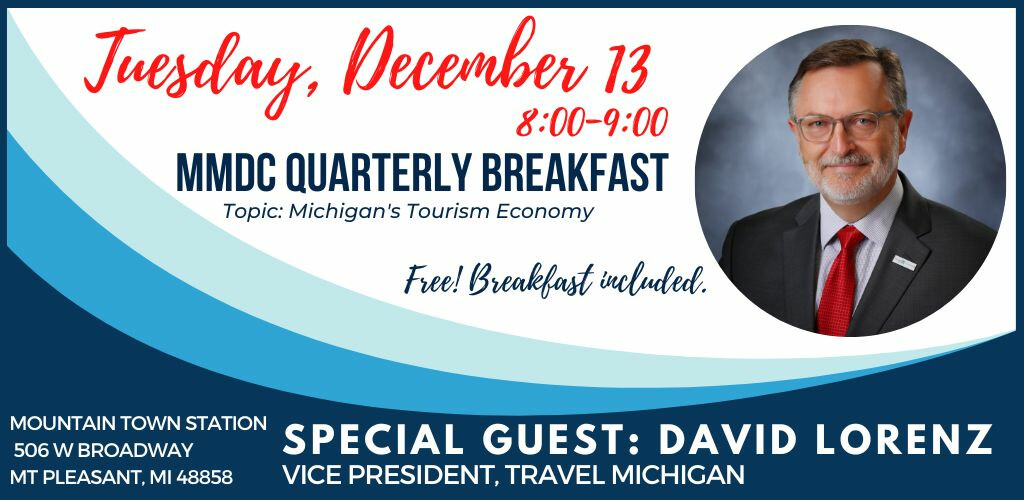 December 13, 2022 8:00am
Address: Mountain Town Station, 506 W Broadway, Mount Pleasant, MI US 48858
Contact: Our Office: info@mmdc.orgOur Office: info@mmdc.org
We hope you'll join us in December for our winter quarterly breakfast taking place at Mountain Town Station in downtown Mt. Pleasant. Enjoy complimentary breakfast and hear from guest speaker, David Lorenz, Vice President of Travel Michigan for the MEDC.
Topic: Michigan's Tourism Economy

RSVP Now!
About David Lorenz:
Dave Lorenz serves as Vice President of Travel Michigan, where he is responsible for leading the state's tourism branding, advertising, and public relations efforts, overseeing the award-winning Pure Michigan tourism campaign and coordinating overall statewide tourism initiatives.
Mr. Lorenz is Chair of the National Council of State Tourism Directors and serves on the Executive Committee of the Board of Directors for the U.S. Travel Association. Also, he is on the Board of Directors for Michigan Cares for Tourism, Circle Michigan, Detroit Metro Convention and Visitors Bureau, MotorCities National Heritage Area, West Michigan Tourism Association, Lansing Convention and Visitors Bureau, and the Grand Rapids Hotel Advisory Board.
Prior to Travel Michigan, Mr. Lorenz was the Manager of Partnerships and Promotions, for Meijer, Inc. He also has 14 years of experience in radio broadcasting in roles varying from announcer and news reporter to numerous management positions.
Thank you to our generous event sponsor!